Mother's Day is fast approaching! If you're looking for a gift for a "mom" figure in your life, one idea is having one of their favourite photos printed onto canvas.
Since we accept orders online, and offer
free standard shipping
across Canada and the US for orders over $99, that makes things a little more convenient for those of you outside our locale (we're located in Vancouver BC).
You can place your order by visiting our website
CanadaOnCanvas.com
, doing a really quick
set-up
of your online account,
uploading
your image (or images), and completing the order details and payment information on the forms. We'll send you a confirmation that we've received your order and have your order ready in 3-5 business days. We'll send you a notification that your giclees are ready for pick-up, or that we've shipped them to your shipping address. Simple!
Upkeep for giclees on canvas are quite simple and low-maintenance. We use archival, water-resistant pigmented inks, so your prints will last a very long time. The Epson inks we use are projected to last for 80 – 100 years. We also apply a finishing to the canvas after printing. This additional coating further protects your print from UV rays, and makes it easy to wipe-clean with a damp cloth. You can also help prolong the display life of your canvas print by keeping it out of direct sunlight, heat, smoke, &c.

Our stretched canvas prints come ready-to-hang. The canvases are gallery wrapped—that is, the canvas is wrapped around the sides and back of a wooden frame, then stapled to the back where it's hidden from view when the artwork is hung on a wall for display. A wire is also affixed to the back, and we package the hooks and nails for you to use for wall hanging.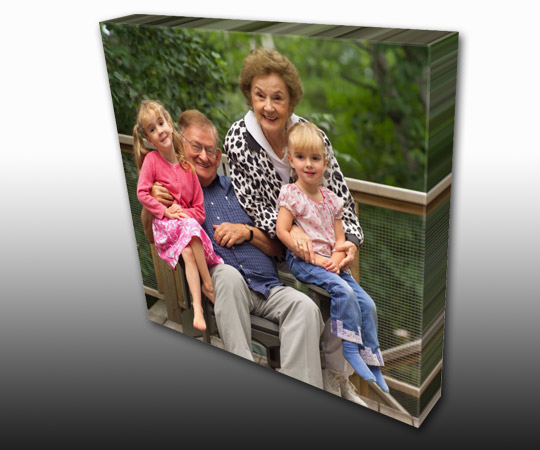 So if you've got a photograph you'd like a maternal figure in your life to have, as a gift to celebrate your relationship with one another, maybe a canvas print would be just the thing to bring a smile to their face.
Be sure to take advantage of our
Special Mother's Day 10% discount code
on the main page of our site!
QUICK LINKS:
Our price calculator and chart for giclees on canvas:
http://www.canadaoncanvas.com/include/prices.php
FAQ:
http://www.canadaoncanvas.com/include/canvas_faqs.php