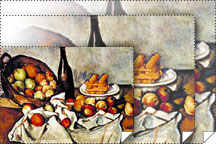 Artists looking to print a run of limited edition prints can take advantage of our volume discount.
Many artists offer prints of their original paintings, photographs, or prints to provide clients with an additional, more affordable option to own their artwork. With the growing popularity and accessibility of digital media, giclees are becoming increasingly easy and cost-effective to create.
We offer a selection of archival, fine art papers, cotton rags, as well as our PremierArt Generations Canvas to print your limited edition giclees on. You can visit our
Fine Art Prints page
for more details.
An overview of our fine art papers:
Hahnemuhle - Photo Rag Bright White 310gsm
Hahnemuhle's new Photo Rag Bright White 310 gsm paper offers the same smooth surface as the other very popular Photo Rag Papers. This 100% rag, acid free fine art paper provides a brighter white base and is designed to give extra brilliance and depth to black and white images. It is also ideally suited for color images where extra brightness might be desired.
- Acid free to preserve fine art and photos
- 100% rag for long term durability
- Bright White 310gsm 44"x39' roll
- Photo Rag Bright White 310 gsm
Moab Paper - Entrada Fine Art 190gsm 15.5 mil
The award winning ENTRADA Fine Art is what makes Moab Paper Company stand above the competition. All of the Entrada Fine Art papers are made of the highest quality 100% cotton rag. The Bright White version has been designed to offer maximum contrast and whites that really pop. This paper utilizes multiple receiving layers which equate to a superior ink load capacity allowing for features unique to Entrada, including water resistance, instant drying times and prints with incredible detail and excellent tonality. Entrada also features a maximum color gamut and exceptionally deep blacks.
This paper is designed specifically for archival pigment inks and works remarkably well with the latest Epson Ultrachrome inks. The 190gsm Bright White version is a double sided mid to heavy weight which will still load in most desktop printers.
- Designed specifically for archival pigment inks
- Acid-free, buffered
- Semi-smooth Matte Surface, 100% Cotton rag
- Bright White, Dual Sided
- Photo Rag Bright White 190 gsm 15.5 mil
- Acid free to preserve fine art and photos
- 100% cotton rag for long term durability
- White surface for vivid color reproduction
- Rich black images for prints with exceptional contrast
- Textured surface for a true artistic appearance
- 425 g/m basis weight for museum quality prints (sheets)
- 225 g/m basis weight for maximum versatility (rolls)
- 100% cotton hot press for long term durability
- Acid free and pH buffered to preserve fine art and photos
- Natural white, ultra smooth surface for incredible detail and accurate reproduction
- Outstanding D-Max for prints with exceptional contrast
- Dries instantly for easy handling with Epson inks
- Highest resolution canvas coating for outstanding reproductions
- Medium gloss surface for easy spraying
- Unique texture for true artistic look
- Heavyweight for quality feel
- Acid free 100% cotton archival quality base
- Stretchable for framing
QUICK LINKS
http://www.canadaoncanvas.com/include/fineart_prints.php